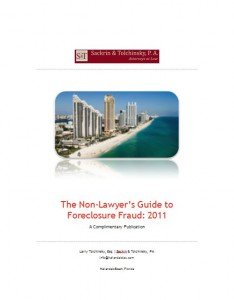 Fraud in real estate documents is a serious problem for Florida, both for the present buyers and sellers of real property as well as for Florida real estate owners in the future — the stability of land ownership has as its cornerstone the reliability of the paper documentation that establishes title (ownership) to land down at the county land records' office.
If that paperwork is not reliable, then we face a big mess for many, many years.   And it's not reliable, and Florida does face a huge Real Estate Title mess for years to come.
We've posted about the forged deeds that are being passed around in Florida right now regarding bank-owned REO properties.
We've written a free e-book that explains the foreclosure fraud crisis that gutted the Florida real estate marketplace – and which is still hurting our economy today.  (Get your free download by clicking on the image.)
In all this mess, few news stories are reporting that wrongdoers have been held responsible for their actions in criminal courts. The national Attorneys General settlement with the Five Big Banks regarding foreclosure fraud exchanged money for a release of liability — remember?
Foreclosure Fraud Robo-Signing Scandal – Someone Goes to Jail (Finally)
So, for many, the reality that the founder and president of Doc-X and a former Big Kahuna at Lender Processing Services (LPS) not only plead guilty in a Florida federal court to federal crimes but was recently sentenced to significant jail time for her part in the Foreclosure Fraud fiasco may come as good news.
Who is Lorraine Brown?
Lorraine Brown is a 56 year old woman from Alpharetta, Georgia, who founded DocX LLC in the 1990s, a company that prepared mortgage-related documents and then filed them with the appropriate real estate records for a fee. The company that was later bought out by LPS and became a division of LPS known as "LPS Document Solutions".
Brown transitioned from being the head of DocX (and the one who oversaw its operations) to being an executive with the national LPS organization.
According to the plea agreement documents (via the DOJ news release), DocX's clients were, for the most part, mortgage servicers for home loans. The plea documents filed in court explained that DocX employees were instructed by Ms. Brown and other Powers that Be at the company to forge signatures on these mortgage-related documents.
Without explaining what was happening to the mortgage services, DocX President Brown also instructed the people signing the documents to bring in other DocX employess to sign the paperwork, too, and then have everything notarized as if the authorized DocX person had signed everything.
Why did Brown do this? From the plea documents, it was all done for More Money.   Having more documents signed meant a greater volume of documents going through DocX each month, and therefore, more revenue coming into DocX. Apparently, this proved to be so profitable that Brown went so far as to hire temps to sign stuff too (using the names of the authorized signatories) so 1000s of mortgage-related documents could move through their system and maximize the billings sent to the mortgage servicers.
LPS Executive and Head of DocX Lorraine Brown Goes to Jail – Florida Sentencing of Lorraine Brown
Lorraine Brown did not have a trial. She opted to plead guilty last fall to federal charges of conspiracy to commit mail fraud and wire fraud before U.S. Magistrate Judge Monte Richardson in his Jacksonville, Florida, courtroom. Brown admitted, as part of her guilty plea, that over a 6 year period, she had taken part in a scheme to prepare over 1,000,000 fake mortgages (with fraudulent signatures and/or fake notarizations) and then file them in the real estate records of various property record offices across the country.
Having plead guilty to mail fraud and wire fraud conspiracy charges, Ms. Brown faced a maximum federal sentence of 5 years behind bars and a fine of $250,000. After waiting several months to hear her sentence, last month U.S. District Judge Henry Lee Adams imposed the maximum incarceration sentence on Lorraine Brown — 5 years — but fined her only $15,000. (Four months earlier, LPS agreed to pay $35,000,000 in settlement of a federal criminal investigation, by the way.)
Lorraine Brown Sentencing in Missouri and Michigan
Florida isn't the only place where criminal proceedings have been filed against the former DocX president and LPS executive. Over in Missouri, Lorraine Brown recently entered into a plea agreement with state prosecutors (not federal ones this time) on one felony count of forgery and one felony count of perjury, and a misdemeanor count of making a false declaration.
Michigan also filed state criminal charges against Lorraine Brown for her part in the national foreclosure fraud mess for her role as president of DocX: after she pled guilty there to racketeering charges last November, she was sentenced in May 2013 by Michigan State Judge Mark Trusock to 40+ months in prison on a racketeering charge. Under Michigan law, she might be held there as an inmate for as long as 20 years (she is 56 years old now), depending upon her conduct behind bars.
Right now, it looks like Lorraine Brown is behind bars in Michigan, since Judge Trusock ordered her to start serving her time in a Michigan facility when he imposed his sentence. How the different jurisdictions will work together on their respective sentences of Ms. Brown is unclear.
Larry Tolchinsky's Tip:
Salon Magazine wrote a good opinion piece that labels Ms. Brown as a token or scapegoat in the foreclosure fraud mess because while she is being jailed by a Florida federal court and faces other criminal sentences in other jurisdictions for bad acts done in other states under her watch, …  well … , she's apparently the only Big Wig being prosecuted regarding fraudulent real estate documents.
That's a valid point.  (Though there are some head honchos of those infamous robo-signing law firms that might be counted in the same boat with Ms. Brown now or in the near future.)
Bottom line, for Florida foreclosure defense lawyers who represent families and home owners who have been harmed and had their lives altered by the Foreclosure Fraud antics and flat out greed of financial institutions over the past few years, reading that the President of DocX and an executive of Lender Processing Services (LPS) has been judged to have violated federal criminal laws is welcome news.
Justice may not be totally served by this one person's incarceration, but it's a step in the right direction. Ask anyone in Florida who lost their home in a fraudulent or wrongful foreclosure, and see what they think about it.
(Visited 437 times, 1 visits today)